Post by Wß on Mar 7, 2015 11:24:47 GMT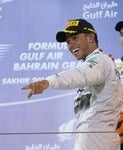 Nico would have won the championship last year were it not for the guy he had as a teammate. I am a competetive guy by nature. Granted there are no things that I compete in that I am "world class" in. But competition is the same regardless. Whether you're playing Monopoly or Poker or double dutching...
In the end what a competitor wants is a worthy competitor, someone that pushes them and makes them sweat. It's never fun for too long to compete against someone who isn't competition.
I was surprised last year by the push Nico put up, I think he held his own on the track, but clearly the W05 would have allowed Luca Badoer to hold his own on the track as well.
The "turning" point for Nico was Monaco. I think there would have been no Spa inccident were Monaco not have gone the way it did. But the long winded point I was trying to make about competition is two fold. 1) You leave it at the game. 2) You want to be beaten by someone who is clearly better than you. There is nothing more shameful to a competitor than losing to someone who is clearly or deemed as a lesser competitor. Both Lewis and Nico are thinking only about 2015 now, last year is indeed history.